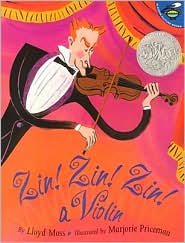 I like this book so much I bought it for Little E when she was far too young to appreciate it (she still is really). Accordingly we hadn't read it for a while and I was very pleased to rescue it for where it was languishing on her shelf when we went looking for something to read before bed. tonight. She crawled around her bedroom floor loudly repeating "boo boo boo" (book) in a very pleased manner whilst I read it even though I doubt how much attention she was paying.
This book is such a cracker that it's hard to pick between the language and illustrations. The book is a description of ten instruments from an orchestra with each page containing a verse devoted to a different instrument. The language is lyrical, sophisticated and often alliterative:
"Flute that sends our soul a-shiver;

Flute that slender, silver sliver.

A place among the set it picks

To make a young SEXTET - that's SIX."
The illustrations are bright and whimsical. The musicians are a suitably eclectric and eccentric looking bunch. The orchestra's two cats, dog and mouse also feature on each page.
We don't have any other Lloyd Moss books but he has a couple of others about music - one called Music Is, another called Our Marching Band. The illustrator, Marjorie Priceman, has written another book that we enjoyed: How to Make an Apple Pie and See the World.